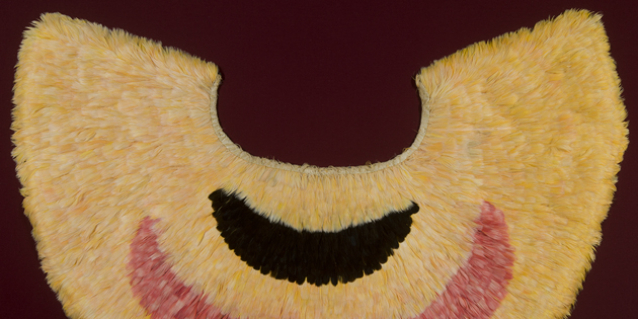 The Hawaii State Legislature first established the Hawaii State Foundation on Culture and the Arts (HSFCA) in 1965. The seedling organization undertook as its mission: "to promote, perpetuate, preserve and encourage culture and the arts, history and the humanities, as central to the quality of life of the people of Hawaii." Through persistent visionary efforts, a small number of instrumental community leaders – architect and State Planning Coordinator Alfred Preis, Governor John A. Burns, State Senator Nadao Yoshinaga, and HSFCA Founding Chairperson Masaru "Pundy" Yokouchi – deserve credit for the inception of HSFCA.
Two years later, the 1967 Hawaii State Legislature enacted the Art in State Buildings Law, setting aside one percent of all new state building construction costs for artwork acquisitions. In doing so, Hawaii became the first state in the nation with a Percent for Art Law. The Arts in Public Places Program relies upon this fund for its purchases, but also receives generous donations from private collectors.
The Art in Public Places Program maintains two general categories of public artwork: site-specific Commissioned pieces, and traveling Relocatable pieces. Commissioned artworks are permanently installed at cultural and commercial hubs across the state: major airports, the Hawaii Convention Center, the University of Hawaii, public parks, plazas, schools, and other key gathering places. In total, the Commissioned collection contains approximately 800 pieces, including many murals, mosaics and monumental statues. Meanwhile, about 5,700 Relocatable pieces also circulate amongst state-owned facilities. Wall pieces for the most part, these drawings, paintings and small-scale sculptures may be found in government offices, reception rooms, libraries, hospitals, classrooms and galleries. An impressive 800 artworks adorn offices and meeting chambers at the Hawaii State Capitol alone, a result of the acclaimed Art at the Capitol initiative.
Prioritizing the artwork of Hawaii residents, the Art in Public Places Program spotlights over 1,600 different local artists. Acquisitions span a broad range of island heritage, from ancient Hawaiian calabashes to 21st Century paintings and sculptures, and everything between. In 2002, upon the spurs of Governor Ben Cayetano and First Lady Vicki Cayetano, the Hawaii State Art Museum opened its doors to statewide enthusiasm. Located in the Capitol District 1 Building, a historic Spanish Mission Style edifice central to Downtown Honolulu, the Museum showcases approximately 300 pieces at a time. [A grand entrance hall and one side wing retain permanent displays, while the other side wing cycles through rotating exhibits. Young visitors learn basic art principles in an interactive educational arena within the gallery, and those of all ages can enjoy an immersive sculpture garden outside. A gift shop and popular café complete the museum-going experience.]